TauTec offers a range of CCD camera systems to guarantee optimal performance for any specific application. Options like fiber-optic input window, UV-sensitive coating or special timing units for synchronization as well as customized software are available on request.

FEATURES

High Resolution
Low Light Sensitive
Fast Readout
Scientific grade
High Speed
Software for camera and peripheral device control, image acquistion, processing and analysis.
CCD Camera
Array size
Pixel Size
Frame
Rate
Readout
Noise
Digitization
Imager
640x480
1376x1040
9.9µm
6.45µm
30 Hz
10 Hz
12e
4e
12 bit
HighSpeedStar
1024x1024
17µm
3000 Hz
10 bit
UltraSpeedStar
640x512
1280x1024
4.65µm
1 MHz
12 bit
UPGRADES

Imaging Spectrographs
Long Distance Microscopes
Coupling Adaptors
Dual/Quad View Image Splitters
Imager Series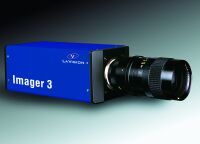 Imager QE: interline progressive scan, array size 1376 x 1040, pixel size 6.45µm, quantum efficiency 65%, 4e read noise, exposure time 500ns...1000s, frame rate 10 fps at 16 Mpix/s, dynamic range 12 bit, TE cooled, dark noise < 0.1e/pixel/s, double exposure with interfaming time of 500ns, binning, ROI, up to 100 subframes/s. Imager EM: on-chip electron multiplier

Imager Pro: up to 4k x 2k, ultrafast readout up to 80 Mpix/s, exposure time 1µs...1000s, 12..14 bit,IEEE 1394, camera link, USB 2.0, ethernet

Imager Pro HS: High Speed CMOS Camera, 1280 x 1024, 12µm, 635 fps, exposure time 2µs... 100ms, 10 bit, USB 2, camera link, IEEE 1394, double shutter mode with 70ns interfaming time

HighSpeedStar: CMOS, array size 1kx1k, pixel size 17µm, full frame rate up to 3kHz, max. sub-frame rate up to 250kHz, dynamic range 10bit.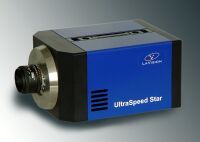 UltraSpeedStar: CCD cameras for ultrahigh-speed imaging USS-4: 1280 x 1024, 4 frames @ 1MHz, USS-16: 640 x 512, 16 frames @ 1MHz electronic shutter down to 500 ns high sensitivity with 12 bit dynamic range image intensifier upgrade offers sensitivity in the single photon range and exposure time down to 100 ns