The intensifier upgrade is a modular gated image intensifier for upgrades of CCD cameras allowing ultra-fast gating down to 50ps combined with low-light level imaging.

The image intensifier is modularly lens coupled to the CCD. This allows most flexible use of CCD camera and intensified camera system. Different photocathodes and phosphor screens are available with 18mm or 25 mm intensifier.

FEATURES:

GEN II/III
Photocathode type: S20, S25, GaAsP
Photocathode size: 18mm or 25mm
Phosphor: P43 (slow), P46 (fast)
High Spatial Resolution
High Speed
Minimum Exposure time: 50ps
Gating Repetition Rate: up to 110MHz Time Domain
Gain Modulation: up to 1GHz Frequency Domain
Coupling to CCD: Relay lens or FO
Optical Input: C or F mount, Spectrograph (customized)
Cooled
APPLICATIONS:

Low Light Imaging
Time-Gated Imaging
Time-Gated Spectroscopy
Fluorescence Lifetime Imaging Microscopy
Image Intensifier Upgrades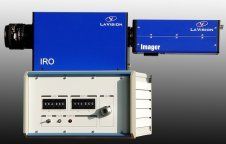 Intensified Relay Optics IRO: GEN II/III, 18/25mm diameter, exposure time down to 5ns, slow (P43) or fast (P46) phosphor, optical input C or F mount, relay lens coupling to CCD.