Intensified CCD (ICCD) cameras find applications in low level light as well as gated, time-resolved detection in conjunction with e.g. pulsed lasers. Due to the short gating (exposure time down to 50 ps) scattered and background light can be effectively reduced. A precise timing unit for control of hardware components is included in all ICCD camera systems. We also offer dedicated and programmable synchronization/timing and delay units for this purpose.

FEATURES

GEN II/III
Single or double stage MCP
Photocathode types: S20, S25, GaAsP,
Photocathode size: 18mm or 25mm
High Spatial Resolution
Time-Gated, down to 50ps
Gain Modulation, up to 1GHz
Cooled
Fiber Optic Output
FO or Relay lens coupling to CCD
Overview of ICCD cameras

ICCD Camera
minimum exposure time
Intensifier Trigger Rate
Sensitivity
(counts/e)
CCD Chip
NanoStar
3ns
4kHz
>100
640x480;9.9um;12bit
1280x1040;6.7um;12bit
DynaMight
5ns
4kHz
>200
512x512; 13um, 16bit
1024x1024; 13um
PicoStar
50ps
200ps
up to 10kHz
up to 110MHz
>100
all of above
APPLICATIONS:

Low Light Imaging
Time-Gated Imaging and Spectroscopy
Pump-Probe Spectroscopy
Fluorescence Lifetime Imaging Microscopy (FLIM)
ICCD CAMERAS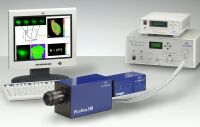 PicoStar: GEN II/III, single or double stage MCP, 18/25 mm diameter, minimum gate width 50ps @ 1kHz, 200ps @ 110MHz, 12-16 bit dynamic range, relay lens or FO coupled CCD camera.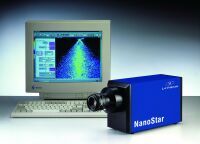 NanoStar: GEN II/III, single or double stage MCP, 18/25mm diameter, minimum gate width 3ns @ 4kHz intensifier trigger rate, burst mode up to 2MHz, 12 bit dynamic range, relay lens coupled CCD camera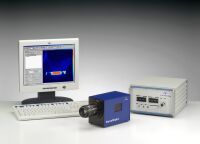 DynaMight: GEN II/III, single or double stage MCP, 18/25mm diameter, minimum gate width 5ns @ 4kHz intensifier trigger rate, burst mode 2MHz, 16 bit dynamic range, FO coupled CCD camera